New Hampshire Septic Systems and Solutions
Septic Services You Can Rely on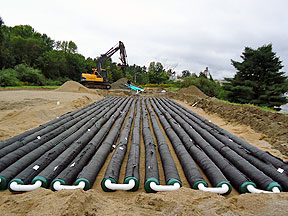 At S&H Land Services, we're experts when it comes to commercial and residential septic system designs. With over 700 septic systems designed for residential and commercial clients across New Hampshire, you can be sure that you get the expertise and quality service you're looking for.
---
Septic Services from S&H land Services Include:
Septic System Design:
Required for any new construction (not served by municipal sewer), all failed leach fields, any expansion of use to an existing structure that adds bedrooms, or additions to structures (regardless of adding bedrooms) where the existing septic system approval is more than 20 years old.
---
For more information on commercial and residential septic service in New Hampshire, please don't hesitate to contact us.