New Hampshire Boundary Surveys
Boundary Surveying Services by Licensed Property Surveyors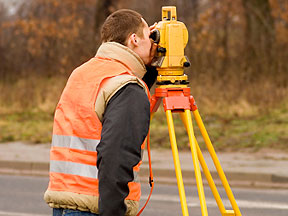 At S&H Land Services, boundary surveys and lot line stake outs are some of the most frequent requests we get.
Boundary Surveys and Lot Line Stake Outs are used…
When there's a dispute between neighbors regarding their boundaries or property lines
To determine boundaries before a building project or tree clearing
When a homeowner is unsure of his or her boundaries
To identify encroachments on your property lines
To set missing lot corners
The difference between a boundary plan and a lot line stakeout
A lot line stake out resolves the boundary, but does not include the drafting of any plans. The lot lines are marked at regular intervals, typically with wooden stakes. A boundary plan resolves the boundary and provides a legal document, the boundary plan, which is recorded at the Registry of Deeds.
---
Our Property Boundary Survey Process:
The First Step: Our Research Process for NH Boundary Surveys
First, we research your property and abutting properties comprehensively, utilizing resources such as historical deeds and subdivision plans to determine the earliest discernable boundaries for the properties.
The Second Step: Field Work for NH Boundary Surveys

We then go into the field where we traverse the property, locate existing boundary evidence, improvements, and encroachments.
The Final Step: Analysis
We then analyze the data and weigh research, deeds, and plans against what was recovered in the field to resolve the boundaries. We then draft a boundary plan that shows the boundaries, structures and encroachments on your property. The final plan is stamped by a licensed Land Surveyor and recorded as a legal document at the registry of deeds.
---
Do you have questions about boundary surveys in New Hampshire? Please don't hesitate to contact us.