About Us
"Service You Can Brag About"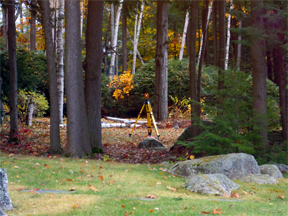 S&H Land Services, LLC is a small, veteran owned, full service Land Surveying firm located in Manchester NH. We have built our company model by blending our combined 25 years of Land Surveying experience with the latest technology. Our goal is to deliver a cost effective, timely and professionally prepared product.
The company was formed in January of 2009 with the vision to create a leaner and smarter Land Surveying company. This business model was created from Thomas and Peter's experiences while being employed by both large and small firms. This streamlined approach seeks to eliminate inefficiencies, reduce overhead and provide our clients with project management that is second to none. What you get in the end is better service without any hidden costs.
---
About Peter Stoddard
With a wide range of project management experience and over 500 state approved commercial and residential septic designs, Peter is the expert to turn to when it comes to virtually any project. From new septic designs to replacement designs for failing systems, Peter helps S&H provide the successful septic designs our clients need by applying his experience and expertise. Peter is also a certified septic designer, installer and evaluator for the Presby Eviro-Septic systems.
Septic Designer License: #1404
Septic Installer License: #5048
---
About Tom Huot

A lifelong New Hampshire native, Tom began his career as a land surveyor after finishing his service with the US Army in 1997. Since then, Tom has provided surveying and septic design for commercial and residential clients all across southern New Hampshire. Like Peter, Tom has worked in both large and small land surveying companies — giving him years of experience when it comes to delivering the accuracy and quality needed for a project, regardless of its scope.
Land Surveyor License: #921
Septic Designer License: #1452
---
About Michael Todd

Mike began his surveying career in 1993 after he received his Associates degree in Civil Engineering Technologies from Vermont Technical College in 1993. Mike became a New Hampshire Licensed Land Surveyor in 2001 and became certified as a Septic System Designer in 2008. As director of Surveying Mike is responsible for coordinating the day to day surveying operations i.e.; research, boundary analysis, field crew coordination, plan drafting and project submittals.
Land Surveyor License #901
Septic Designer License #1802
Director of Surveying and NH Licensed Land Surveyor #901